EXCLUSIVE TECHNICAL CHARACTERISTICS
The architectural walls by WallWorks have unique design, superior finishing and exclusive technical characteristics in the market.
1. TELESCOPIC SYSTEM FOR FLOORS, CEILINGS, EXITS AND DOORS
Allows for correction to uneven floors and out-of-vertical walls. In addition, rearrangements are possible with no need of additional pieces.
2. INDEPENDENT INTERNAL STRUCTURE
The on-site assembly can be brought forward installing only the structural components. The finishing trim can be added later, guaranteeing the perfect finishes after execution.
3. PROFILE OVERLAPPING
Camouflage system of horizontal profile cuttings, providing excellent finishing and acoustics insulating.
4. INDEPENDENT MODULATION
It enables removals and additions without interfering with adjacent modules, making it easy to relocations.
5. FREE PAGING AND MODULATION
Panels paging and modulation are defined according to the specific need of each project.
6. MODULE TRANSFORMATION
Modules can be transformed without needing to remove the structure.
7. ACOUSTICS
Double insulation rubber is used on ceilings, floors, exists and doors, providing outstanding acoustic properties.
PHOTO GALLERY
SEE MUTIPLE ENVIRONMENTS WITH CLASSIC WALL

PANEL CONFIGURATION

SOLID PANEL MIXED PANEL GLASS PANEL
Free modulation paging and height;
Simple-panels or double-panels with the option of acoustic insulation for double-panels;
Glasses: simple-glazed or double-glazed panels; laminated or tempered crystals;
Films: frosted, total or partial;
Blinds: External or integrated;
Solid panels: finishes in plain colors, woodgrains or fabrics;
Profiles: heavy or slim; anodized, painted in plain colors or wood look finishes.
BITS BETWEEN PANELS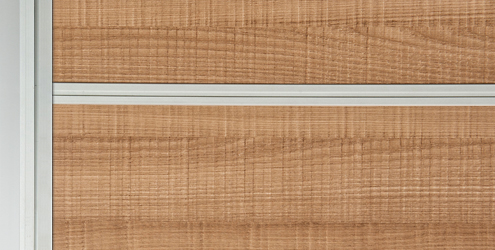 WallWorks offers the light finishing in aluminum bits, which provides more protection to paginated cuttings of the panels.
DOOR CONFIGURATION

SIMPLE

DOUBLE

SLIDING DOOR
Free modulation paging and height;
Displays: variable dimensions;
Glasses: simple-glazed or double-glazed panels; laminated or tempered crystals;
Locks: brands to be chosen;
Hinges: fitting to the doors studs and frames, being the frame optional;
Handles: tubular with free dimensions;
The doors can also be pivot doors.